See on Scoop.it – Tech News N Updates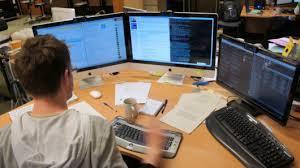 Use Diff Displays app for minimum distraction and maximum power saving while working on multiple monitors. Change the way you work on multiple monitors by downloading this app
Justin Ishley's insight:
Diff Displays works on the simple method of reducing energy wastage as well as distractions. To do it, this multi-monitor system engages the eye reading mechanism with which it dims the unused monitors and only keeps the one bright in which the user is looking at/reading from. In this way you save on energy as well as reduce unwanted disturbance as well.
Significant points to remember with the Diff Displays app
Each monitor has cameras fitted in them for eye-movement tracking.The dim monitor(s) records all changes and highlights (displays them in bright fonts) them for you when you make them (monitors) active.If you are a Windows user, you can download this app for free and check out right away.
See on www.techgenie.com